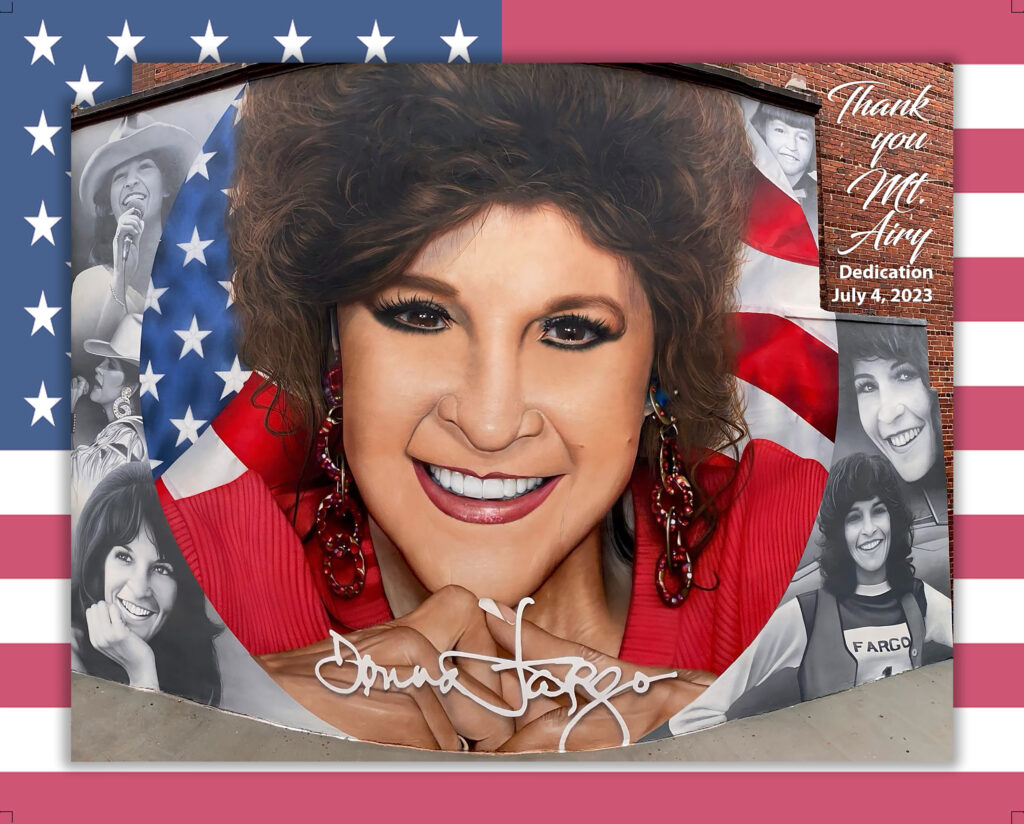 Hey Sweet Friends…welcome back to Friday Follies!
Well, we've returned to Nashville from our trip to my hometown of Mt. Airy, North Carolina, where we were welcomed with feelings of friendship, excitement, and celebration at all of the events.  Thank you to those in Mt. Airy who showed up as well as all who came from other states like California, Michigan, Missouri, Nevada, Nebraska, Ohio, Pennsylvania, New York, Illinois, New Jersey, Indiana, Florida, Alabama, Georgia, and others.  My heart is still filled to overflowing, and as I said in my speech, "I would need a new language to describe my appreciation for the whole experience."  I loved our visits and all the conversations.  Also, your comments on Facebook and the pictures are such great memories.  Thank you to everyone who made this possible. I appreciate all of you for being there, and I love you more than I know how to say.  I feel "spoiled" with love.
I am humbled by all the people in Mt. Airy who approved of putting pictures of me on the wall of Walker's Soda Fountain, where I used to go as a teen after cheerleading practice and have a pimento cheese sandwich and Coke.  And to have been painted by the most talented and famous muralist Jeks, I am honored and so blessed.  There are many people who went above and beyond – to the Mural Committee who invested countless hours, to those of you who were involved in all the events leading up to July 4th, to everyone who decorated those colorful fun floats, to Mayor Jon Cawley and the dignitaries who were there to make the day even more special, to Matt and the staff at the Museum who hosted the book signing and autograph session, to the folks who supplied the sound system at the different locations so we could all be heard, to Woody, Captain Richard and Jerry who were protective and helpful and responsible for getting me to and from each place, Jeks' hosts Norm and Janemarie for their hospitality, and to my family members – Wayne, Jr., Camille and Denise, Grayson and Jesse, and Marisa and Bo and all my cousins – for their presence and support – thank you!  To Chase and all the nice people at the Cracker Barrel who allowed us to interrupt their "normal" service to their customers, to the fine staff at the Hampton Inn for being so gracious to us, to everyone who gave us treasured gifts and a variety of surprises, your goodwill is exceeded only by your generosity.
It tickled me to see all of you who wore your DF caps and shirts; you looked so hip and "happening," and there were some super cool items I'd never seen before that were made just for this event.  You guys are so thoughtful and caring!   I can't tell you how much I loved that picture on your car, Vonnie Watson, from Pennsylvania.  Now I'm on a wall and a car, hot diggity dog!
I could never repay Linda Cottingham, Brenda Madden, Doug Smith and all the members of "Team Fargo" (Curtis Cox, Nancy Wetzel, Rena Tessier, Richard Page Jr. and Richard Page Sr.) for their talent, loyalty, and dedication.  I am so fortunate to be surrounded by such wonderful friends.  We owe a particular debt of gratitude to Donna Hiatt, John Rees, and Jenny Lowry for creating the tapestry for this unique celebration, to Donna and Roger "for going the extra miles" and to Ann Vaughn and Calvin Vaughn for their individual assistance in each part of the process. And thank you Debbie Cochran, Steve Jarrell and Sylvia Lowry for sharing your artistry and entertaining us at the Cracker Barrel.
We appreciated the media coverage by the Mt Airy News, the Winston Salem Journal, Yadkin Valley Magazine, WPAQ, WSYD, WIFM and Maverick Radio.  It was a pleasure seeing some of my favorite DJs, writers, and TV hosts who promoted the events, conducted interviews, and attended the festivities – Joe Don Baker, Gary York, Kelly Epperson, Jenny Lowry, Paul Farrar and Peter Kulsziski and Cindy Martin.
I didn't mean to write a book here, and I'm sure I left someone out.  But please just know I love you and appreciate you with all my heart.  I wish you – every one of you – your heart's desire.
Love,
Donna
P.S.  We're still gathering pictures which we'll share with you soon.  It was such an amazing day.