Donna Is Rockin' 2023 With Her Latest CD...ALL BECAUSE OF YOU!
Click on the video above to hear Donna's message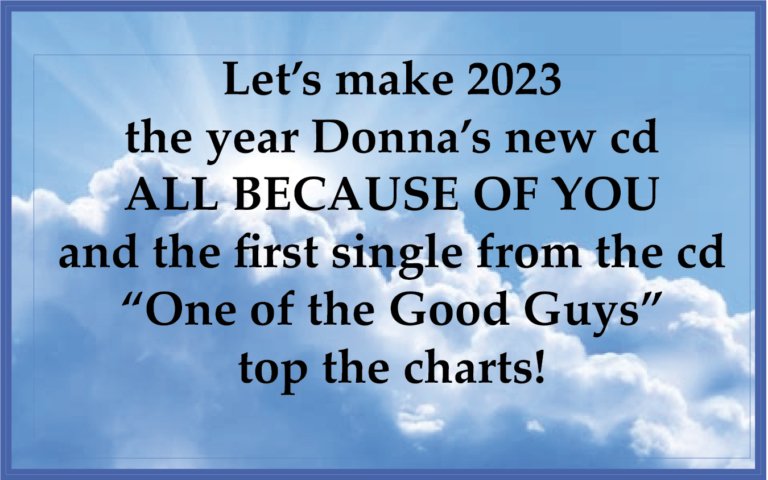 All "Distinctively Donna" videos can be seen on YouTube. They will be added on a frequent basis so keep checking YouTube to hear and see Donna's messages. You can find them by doing a search for PrimaDonna Entertainment Corp
DONNA RETURNS TO HER HOMETOWN OF MT. AIRY, NC AND YOU ARE CORDIALLY INVITED TO JOIN US ! ! !

Mark your calendars for July 4th!
Celebrate with Donna as she unveils the Donna Fargo Mural
Donna's hometown – Mt. Airy, NC, is rolling out the red carpet for their hometown girl. Exciting activities are planned that any Donna Fargo fan won't want to miss.
Festivities will begin at 11AM (EST) with the 4th of July parade that Donna will serve as Grand Marshall along with  co – Grand Marshall, the famous muralist JEKS, who is painting Donna's mural. It's going to be great!
Following the parade Donna will then move to the ribbon cutting ceremony of her mural. A "Meet and Greet" with Donna in the Mount Airy Museum of Regional History will follow the dedication ceremony 3:00 PM.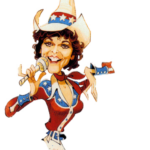 Join Donna for Lunch - July 5, 2023 @ 1:00 PM
Adult-to-12 years old $21.75 each
Children will order from the menu and their accompanying adult will pay for their food.
Carefully read all information below before checking out with your payment
A post will be made at www.Facebook.com/groups/donnafargofanclub when tickets go on sale
WHEN / WHERE: July 5th at 1:00 PM in the private dining room of the Cracker Barrel at 1948 Rockford St, Mount Airy, NC 27030 
The COST: $20.50 for ADULTS to age 12. Children 11 and under will order from the menu to be paid for by their accompanying adult.
**Even though you will NOT make a meal choice for the child's ticket, we still need to have their names filled in as CHOICE 9 in order to have appropriate seating for everyone. This will become more clear when you are on the actual SHOP page and are ready to place your order.
Indicate which meal you would like to order and how many of that choice you will need. Once all your choices have been added to the cart, proceed to VIEW CART to make sure everything is correct. Remember: you are NOT ordering anything for children 11 and under from this website.
VERY IMPORTANT: When you are going through the checkout process, be sure to type in the space provided the following information: First Name, Last Name, and City and State where you're from.
TICKETS WILL BE MAILED OUT NO LATER THAN JUNE 24. ORDER SOON! The earlier you order your ticket, the sooner you will solidify your spot at the table. 
Email Linda at [email protected] if you think you will be leaving for Mt. Airy before the tickets will arrive at your home. In that case, you can pick your tickets up from Linda at the Cracker Barrel.
  NO TICKETS WILL BE SOLD AT THE DOOR………TICKETS ARE NON-REFUNDABLE
Below is a list of menu choices available
Choice #1: Salad and loaded baked potato, bread, beverage, peach cobbler & ice cream upon request
Choice #2: Meatloaf, mashed potatoes, steamed broccoli, bread, beverage, peach cobbler & ice cream upon request
Choice #3: Oven-baked broccoli cheddar chicken, steak fries, bread, beverage, peach cobbler & ice cream upon request
Choice #4: Grilled chicken tenders, green beans, baked potato w/ butter, bread, beverage, cobbler & ice cream upon request
Choice #5: Green beans, apples, corn, turnip greens, bread, beverage, peach cobbler & ice cream upon request
Choice #6: Chicken Pot Pie, bread, beverage, peach cobbler & ice cream upon request
Choice #7: 1 Fried chicken breast, mashed potatoes, green beans, bread, beverage, peach cobbler& ice cream upon request
Choice #8: Scrambled eggs, biscuits/gravy, sausage patty, hash browns, bread, beverage
Choice #9: Child who will be ordering off the menu – remember to fill in your 1st name, last name, city, state