Hope you're all doing great, feeling good, and still having fun after our Labor Day weekend.
Look at these beautiful flowers one of my favorite people sent me to celebrate the 50th Anniversary of my song, "The Happiest Girl in the Whole U.S.A."! They are so pretty, just breathtaking. As fabulous as this bouquet is, however, it can't compare to the beauty in the heart of someone so generous and special.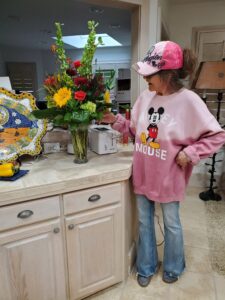 I am humbled by the sweet messages so many of you have sent me. Thank you all for touching my life and for enjoying these wonderful magical memories with me for all these years. You've been there from "Happiest Girl" to "One of the Good Guys," the first single which you helped select from my brand new CD, ALL BECAUSE OF YOU! I can't tell you how much I appreciate your overwhelming support. It's fun to have brand new music out again and more creative adventures to share! You know I love you.
To be continued,
Donna Fargo