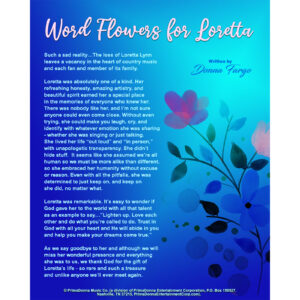 Hey You Guys!
Welcome back!  I want to thank you for all your sweet comments from the last Friday Follies.  You are all so special.  This is crazy fun.
I hope your week has been as energizing and lively as mine.  We've been busy working on a number of projects. Since so many of you requested prints of my tributes to two of my favorite artists, Loretta Lynn and Tammy Wynette, I decided to do these first.  They were such amazingly talented singers and songwriters whose words and music touched the world, and every female country artist is indebted to them.  We've just completed "Word Flowers for Loretta" and Tammy's will be finished soon.
When we were in Mt. Airy, we sold out of the UK CD, FUNNY FACE – THE UNIVERSAL RECORDINGS, so we re-ordered of course and guess what!  They came TODAY!!!  Hot Diggity Dog!!!
Well, it's time to get back to work.  Don't forget to live fully, love freely and be happy.  Enjoy life because we only get one trip through.  People come in and out of our lives and I'm so glad you stayed in mine.  See you next week.
Love,
Donna
To order "Word Flowers for Loretta" go to (https://donnafargo.com/shop/ or https://www.primadonnaentertainmentcorp.com/shop/ )